Cricket frogs
at
a Glance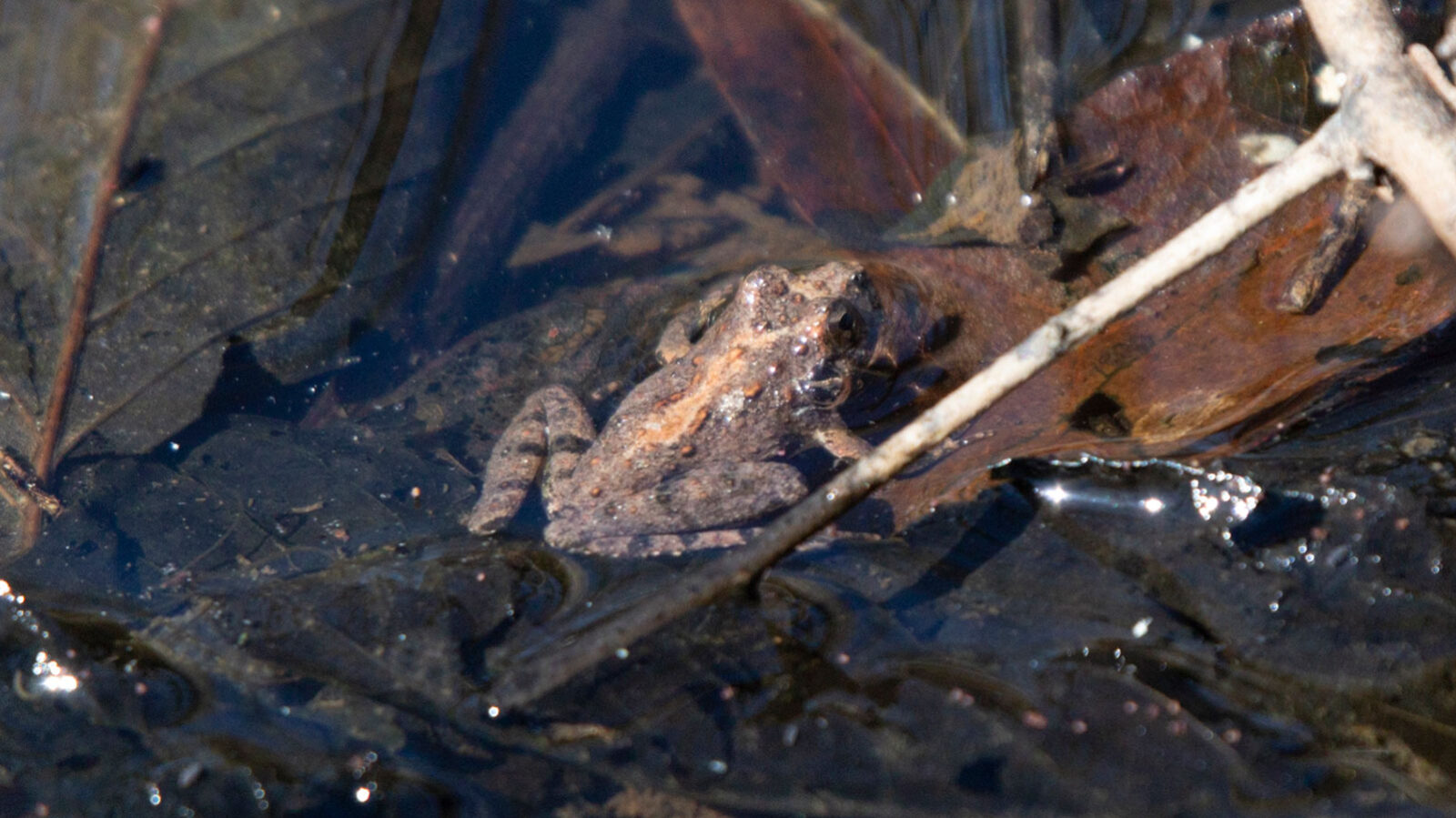 Cricket frogs are some of the smallest vertebrates in North Louisiana. The only frogs that are smaller are the Rio Grande chirping frogs. The taxonomists who named these tiny, non-climbing, super hopping tree frogs that eat crickets and chirp like crickets nailed it. Cricket frogs, indeed.
Cricket frogs are members of the treefrog Hylidae family but are not arboreal. You'll find these tiny amphibians at ground level. Their closest relatives are chorus frogs, which they're often mistaken for.
Cricket Frogs v. Predators
Because cricket frogs are so tiny, loads of animals will snatch them up for a midnight snack: birds, fish, reptiles, and even other frogs eat them. Their most common predators are fish, herons, minks, salamanders, and snakes. Adult northern cricket frogs can bounce up to 3 feet in a single leap, and use this skill to evade predators. Southern cricket frogs are even more skilled hoppers, jumping up to 8 feet in a single bound! That's the equivalent of a person jumping over a building in a single bound. So, southern cricket frogs are pretty much superfrogs. They'll generally dive into the water or hop toward tall vegetation in water if they're leaping from a land predator and toward tall vegetation on land if they're fleeing a water dragon…or, you know, a fish. If one leap doesn't take them to safety, they'll use the danger zigzag hop to confuse their dinner guests. Blanchard's cricket frogs may also burrow into mud.
Most tadpoles die due to the environment or predators making them a midnight snack, and the high mortality of thousands of tadpoles drops the average lifespan of cricket frogs to about four months. Generally, those that live past the metamorphosis phase live at least a year in the wild, and in captivity, these frogs can live up to five years.
Aside from predators, poorly oxygenated water is the top culprit for cricket frog murder. Cricket frogs in poorly oxygenated water can suffer from high mortality rates, even if the oxygen rate improves within 24 hours.
Cricket frogs eat the bugs that cause disease and are especially beneficial because they feast on those nasty little blood-sucking mosquitos.
Although cricket frogs are listed as least concern by the Red List, the population of the frogs is decreasing, potentially due to drought, fertilizers and pesticides, highway salts, and other pollutants. Because the frogs have a short lifespan, a dip in numbers is difficult for the cricket frogs to raise. The Blanchard's cricket frog has disappeared from some areas and is listed as a Special Concern in Michigan, but is common throughout Louisiana.
The high mortality rate among tadpoles and the predation of these adult frogs by humans and other animals has caused a decline in frogs and amphibians worldwide. Amphibians have permeable skin, and pollution, habitat destruction, invasive species, and bacteria outbreaks may also contribute to the declining number of amphibians worldwide.