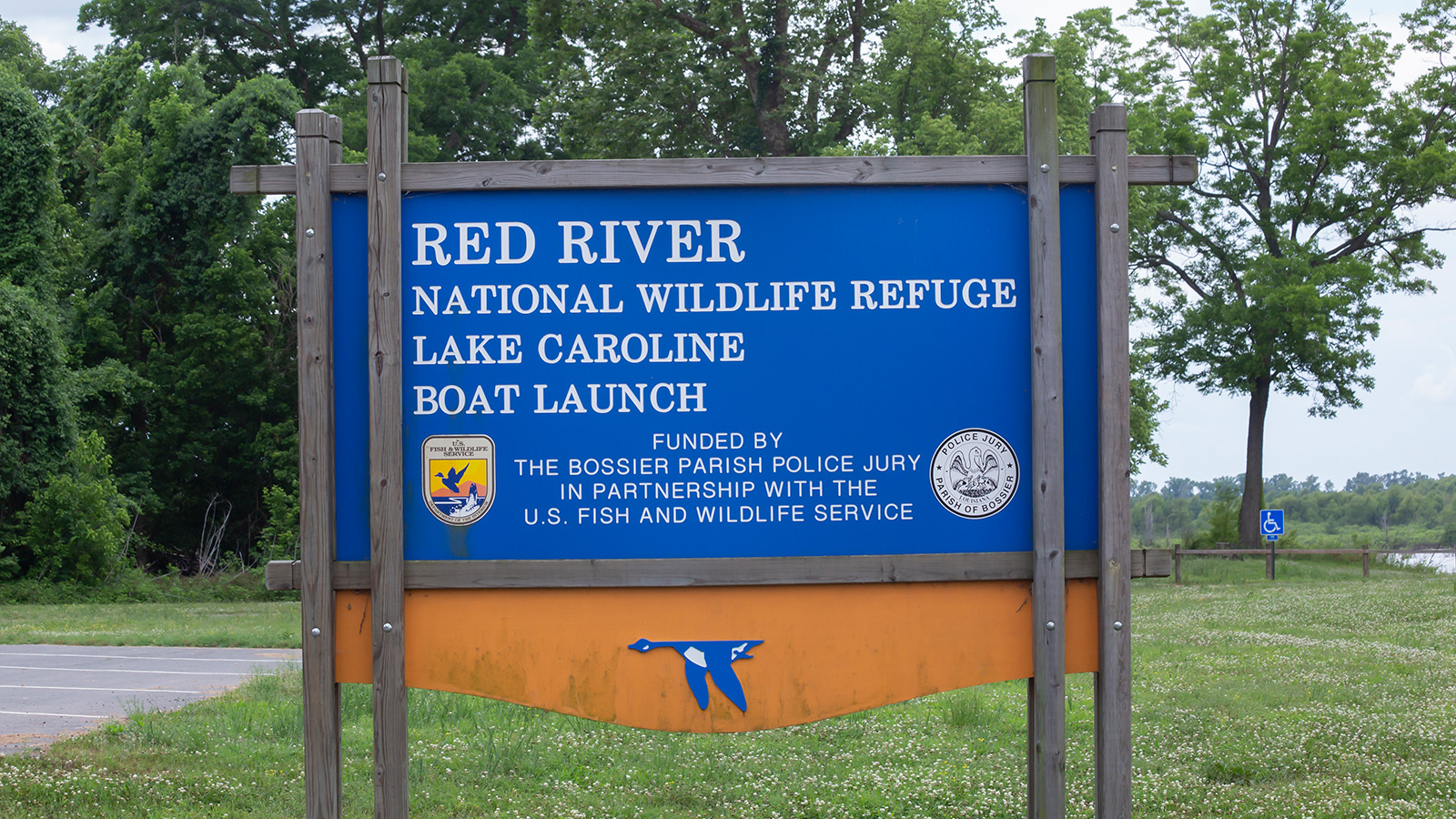 Basic Info about the Refuge
The Red River National Wildlife Refuge in Louisiana is 50,000 acres of trails, forests, and waterways across 5 parishes.
The Red River NWR is composed of five units across five parishes: the Headquarters Unit in Bossier, Bayou Pierre in DeSoto and Red River, C. Bickham Dickson in Caddo, and the Lower Cane River and Spanish Lakes Lowland Units, both in Natchitoches.
The Headquarters Unit stays busy, and the birds found throughout it will come pretty close to people. The trick is finding a quiet spot to animal watch. Our favorite places at the refuge are looking out at Lake Caroline and hiking the Lake Bluff, Orchard, and River Trails at the Headquarters Unit.
Small birds and squirrels are active all along the trails, especially on cool mornings, and turtles, gulls, pelicans, and cormorants fly over and hang out in Lake Caroline during much of the year.
During the late spring and summer, you can find skinks along the trails.
By The Numbers
Learn more about the refuge.
While we love all our wild friends, the rusty blackbird is our favorite Red River NWR inhabitant. Red River is the first place we met this friend in the wild, and no matter how many other awesome neighbors we meet there, is still our fav from the refuge.
More about How You Can Enjoy the Refuge
General Info
Birding and Wildlife Watching
Fishing
Hunting
General Info
The refuge is open from sunrise to sunset all year and is free to the public. Find more details about what you need to legally hunt and fish at the refuge in the tabs below.
Restrooms
The headquarters building has interactive displays and restrooms. Call ahead to find out whether the building is open.
Trail Accessibility
The Red River NWR trails are very accessible for Headquarters Unit visitors with vision and mobility problems. The trails are well kept and marked, and it is easy to use a cane on them.
Learn More
Learn more about the Red River NWR at the refuge's official website.
Birding and Wildlife Watching
Fishing
Hunting
Visit Other Areas
The Red River NWR is one of many places you can enjoy our local wildlife. 
Explore North Louisiana's Outdoors.
Learn about national wildlife refuges, Kisatchie National Forest ranger districts, state wildlife management areas, and state parks found throughout North Louisiana.