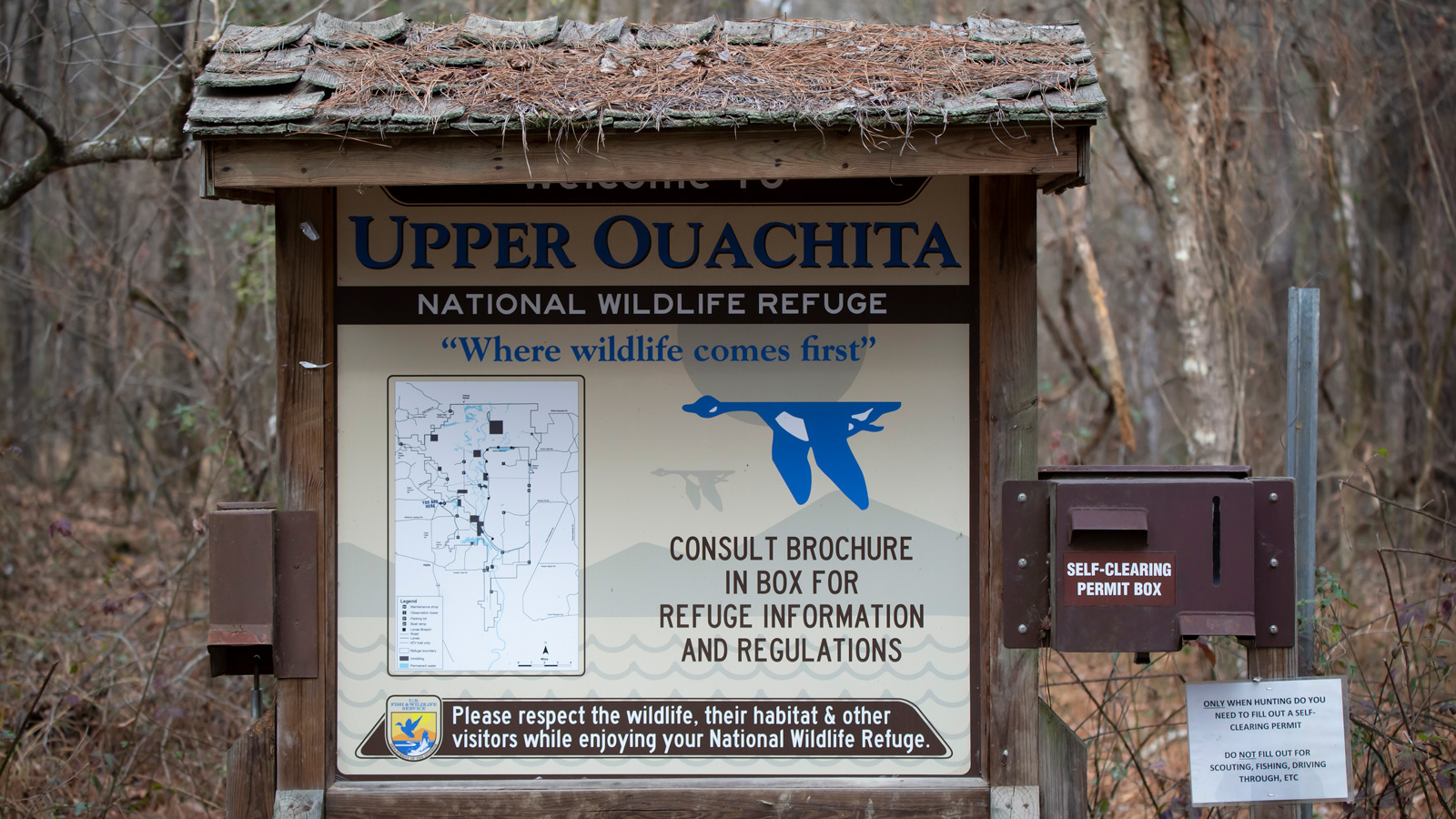 Basic Info about the Refuge
The Upper Ouachita National Wildlife Refuge in Louisiana is around 42,000 acres.
Tne Upper Ouachita NWR more than 40,000 acres of lakes, swamplands, and forests, which includes the Ouachita River. It spans Union and Morehouse Parishes and provides lots of good habitat for songbirds, woodpeckers, raccoons, deer, bears, snakes, and turtles. Although we haven't personally seen any eagles here, people do report seeing them here, especially at the Mollicy Unit.
Finding the observation tower is extremely difficult, as there aren't any markings beyond warnings that roads are closed to public traffic pointing the way. The road on the eastern side is also filled with potholes and extremely difficult to navigate. However, the western side of the refuge is easy to find and navigate through, and you can find loads of fun habitat to explore near the river, Finch Lake, Big Lake, and Glaze Creek.
By The Numbers
Learn more about the refuge.
The raccoon is one of our favorite animals in North Louisiana. These famously bad mannered mammals live throughout the Upper Ouachita NWR, and are especially common along the river.
More about How You Can Enjoy the Refuge
General Info
Birding and Wildlife Watching
Fishing
Hunting
General Info
The refuge is open from sunrise to sunset all year and is free to the public. For folks legally fishing and hunting, those hours of use may be expanded in select areas. There are more details about what you need to legally hunt and fish at the refuge in the tabs below.
Restrooms
We haven't seen any restrooms at the Upper Ouachita NWR.
Trail Accessibility
We didn't find any well-marked hiking trails in the area we were at. The ground seemed uneven, so we didn't test the accessibility of this NWR.
Learn More
Learn more about the Upper Ouachita NWR at the refuge's official website.
Birding and Wildlife Watching
Fishing
Hunting
Visit Other Areas
The Upper Ouachita NWR is one of many places you can enjoy our local wildlife. 
Explore North Louisiana's Outdoors.
Learn about national wildlife refuges, Kisatchie National Forest ranger districts, state wildlife management areas, and state parks found throughout North Louisiana.